How Does It Work?
Push the play icon below to learn how the eLearning Biology works.
Lab Manual
During the video labs, the activity pages in the Lab Workbook is used to formulate a hypothesis, record data, make calculations, and evaluate results.
A printable PDF is included with your course. A hard copy, printed in color on 3 hole punched paper is available for those who do not want to print the 86 pages at home: Hard Copy Lab Manual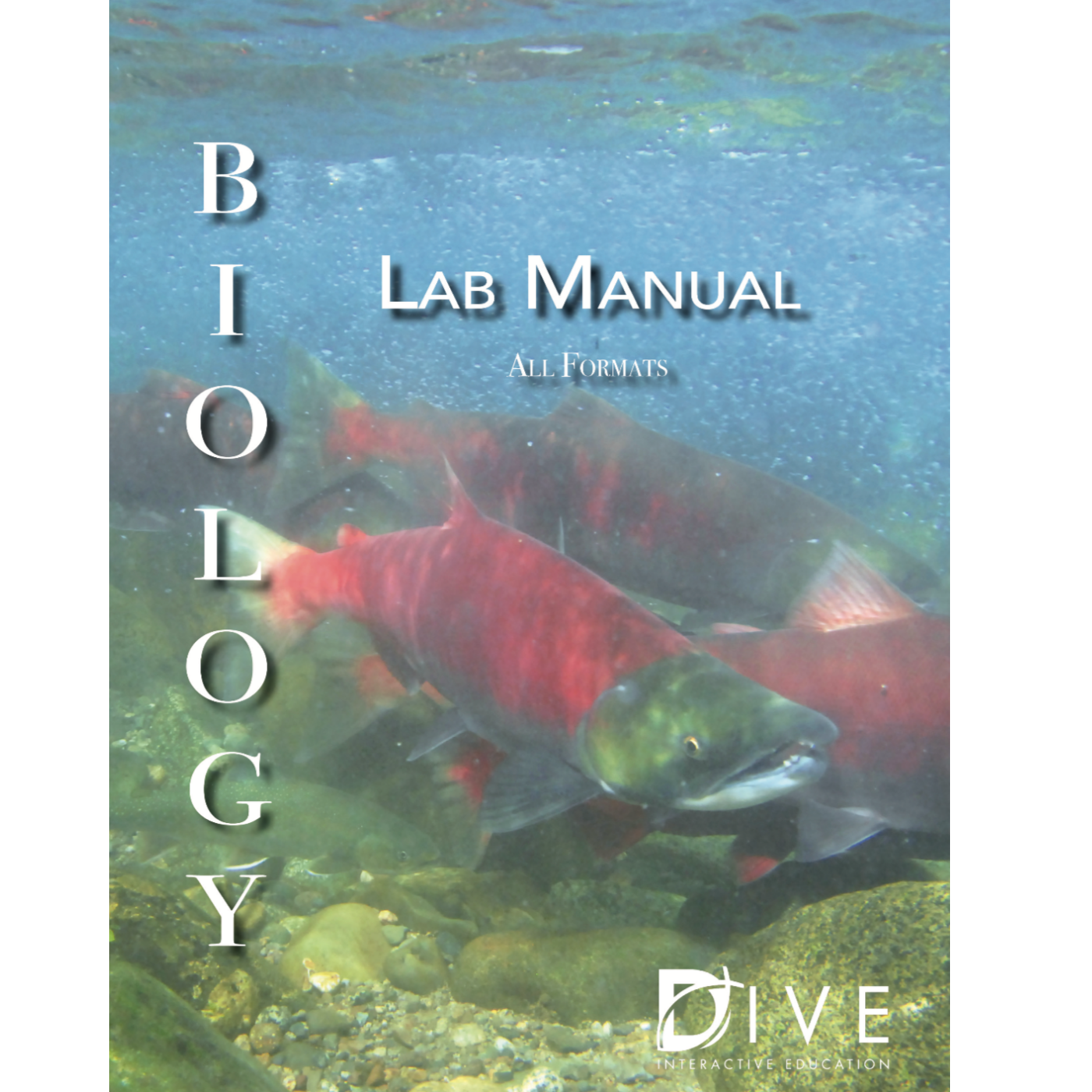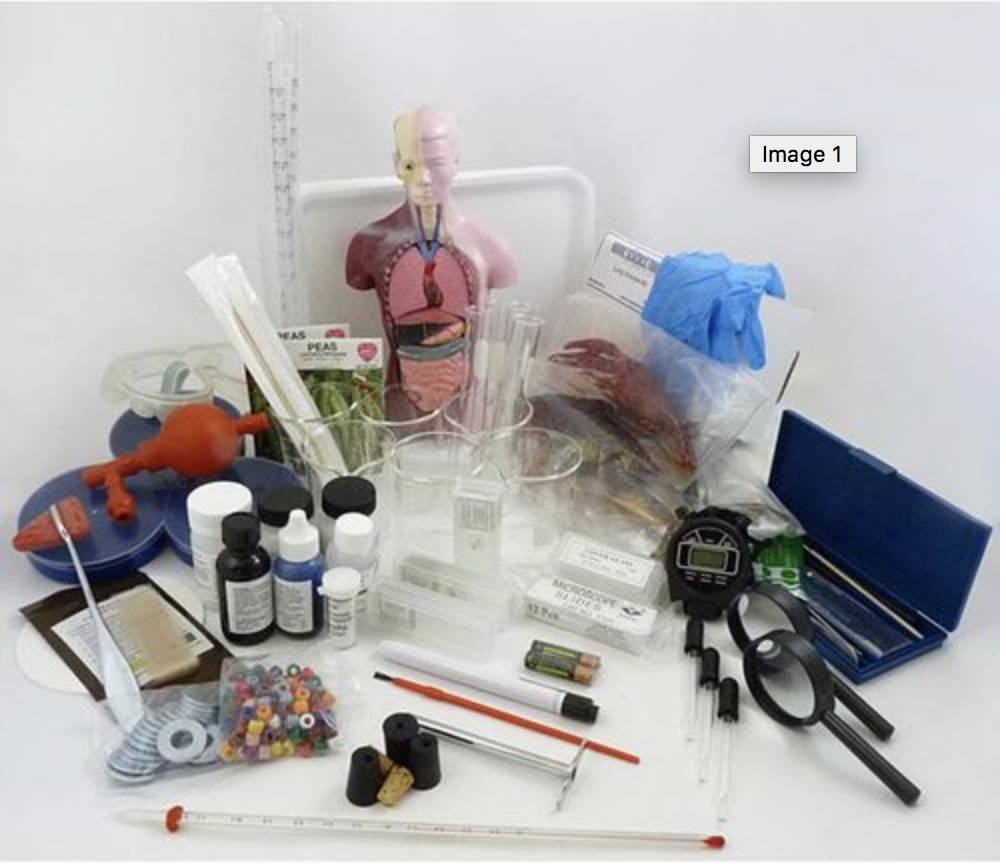 Hands-On Lab Kit
While the labs can be completed by watching the video labs and filling in the lab activity pages in the lab manual, a lab kit is available to complete most of the labs hands-on. Both options earn 1 credit of Biology with Lab. Learn More
Recommended Products for DIVE Biology:
Click the link above to read the complete Teacher's Guide with detailed instructions for each component, a scope and sequence, and much more!
BASED ON A BIBLICAL FOUNDATION
Connecting Scripture to science, Dr. Shormann teaches from a 6-Day Creation Worldview. He inspires students to DIVE deeper into science and Scripture by teaching that science is a tool for understanding God and the purpose and pattern evident in Creation.
VIDEO SOLUTIONS ENSURE UNDERSTANDING
Video solutions are provided for the digital worksheets and lab activities. Teaching how and why, each complex concept is taught step by step on the digital blackboard. These solutions ensure your child understands each concept.
QUARTERLY EXAMS PREPARE FOR COLLEGE COURSES
Every 8 weeks there is an exam. Quarterly exams promote study habits similar to what a student should expect in college, where exams are given infrequently and cover a large amount of material. On the week of the exam, no other work is assigned. If you would like an AP course, we recommend giving the exams traditionally with a one hour time limit. If you prefer a regular high school course, give the exams open book, open note, or with a "cheat sheet". Of these, we like the "cheat sheet" method because it best teaches students how to prioritize and organize the information, providing an easier transition from weekly to quarterly exams.
Q&A EMAIL SUPPORT PROVIDES A LIFELINE
While our program is very comprehensive, occasionally a little extra help is needed. Students and parents can email Dr. Shormann directly anytime they have a question concerning the course. Emails are answered within one business day or less.
AUTOMATED ONLINE GRADE BOOK
All the grades from the digital worksheets, quarterly exams, and facts practice are automatically recorded in an online grade book. Parents use the student login to view assignments and scores. After each assignment is completed a results page displays the questions, correct answers, missed problems, and the grade. This results page can be printed and/or emailed to the parent each time an assignment is completed.
FREE INTERNET TEXTBOOK FOR ASSIGNED READING
There is a reading assignment for every lesson. The reading assignment can be completed using our Internet Textbook, which is embedded in the eLearning course for quick and easy access. If you prefer a traditional textbook, we recommend Bob Jones Biology, Apologia's Exploring Creation with Biology, or Abeka Biology. However, since we have a reading syllabus for just about every publisher, you can choose any textbook you like. SEE READING SYLLABI on the pages 13-15 of the DIVE Teacher Guide for eLearning Biology.
EARN UP TO 8 HOURS OF COLLEGE CREDIT BY EXAM
Upon completion, we recommend using our CLEP Professor for CLEP and AP Biology, a three week course that specifically prepares students for CLEP and AP Biology exams. Not only do these exams award up to 8 college credits, a passing score can significantly boost your college admissions and scholarship applications in the selection process. Click on the link above to learn more about this program.
How Do I Access the Course?
Within 2 business days after purchase, you will receive an email titled "eLearning Login" with a link to the eLearning campus, the student's user name, and password. If you don't receive it, please search the spam, updates, and trash folders of the purchaser's (parent's) email account for support@diveintomath.com. If you don't see it there, contact us Contact a Login Specialist.
Start Date: The start date of your subscription is your purchase date. We do not offer an option to select a future start date. If you are not ready to start planning or accessing your course now, please wait and purchase when you are ready to start or want to access the course for planning, etc. Keep in mind, the subscription is 12 months but the course is only 36 weeks (9 months) so there is plenty of time to purchase the course early for planning and prep.
Which Email Address Should I List?
Student Email Address
Please provide a different email address for each child enrolled in an eLearning course. For example if, Joe is enrolled in eLearning Biology and his sibling, John, is enrolled in eLearning ICP, they must have different email addresses for each of their accounts. This email address is only used to re-set the password to the eLearning account, if needed. Therefore, any working email address can be listed in the Student Email field, as long as it has not being used by another child you have enrolled.

Parent Email Address
The email address listed during check out, should be the parent's email. This is the address the the eLearning course login credentials will be sent. This is also the email address used to contact the parent, if needed.
Parent Login
Parents use the student's login credentials to view assignments, grades, results, etc. After each assignment is completed, the student can email the results page that displays all the questions, the correct answer and your student's answer. The results for each assignment can also be viewed by clicking on the grade in the grade book.
Can a parent take the course along with the student?
If the parent would like to complete assignments, a Sibling Subscription can be purchased for the parent.
Sample Weekly Schedule
This self-paced course is set up on a 32 week schedule with an average of two video lectures, two worksheets, 20 definitions, and one lab to complete each week. Every 8 weeks there is a quarterly exam. The lecture and lab videos average 30 minutes each, but don't forget to add time for pausing, rewinding, and note-taking. While this is a flexible self-paced course, a typical week could look like this:
DAY 1: DEFINITIONS AND READING ASSIGNMENT
DAY 2: LECTURE 1, DIGITAL WORKSHEET 1
DAY 3: LECTURE 2, DIGITAL WORKSHEET 2
DAY 4: WATCH VIDEO LAB (HANDS-ON NOT REQUIRED), LAB WORKSHEET, GRADE LAB WITH VIDEO SOLUTIONS
EVERY 8 WEEKS : QUARTERLY EXAM
Key Features:
Teacher's Guide

(

click to view)

Comprehensive, full year course

Based on a flexible 32 week schedule

User friendly interface allows students to work independently

1-2 Video lectures per week provide expert instruction

1 Video Lab per week (2-3 lab activities each)

Digital Interactive Worksheets

Automated grading & grade recording

Embedded video solutions for Lesson Reviews

Q&A email support with Dr. Shormann

Parent can change grades and reset assignments

Updated video lessons and graphics

12 Month Subscription

$20 Renewal for Siblings

Learn More

Web-based course
System Requirements
A Computer or Device with a current version of Safari or Chrome:

Android Devices

iOS devices like iPad, iPod Touch, and iPhone

All Macs, Linux, or Windows 7+

A Stable (not high speed) Internet connection:

Requirements
Important Policies: 1. Because they contain downloadable files, accessed courses can't be refunded or exchanged. 2. A sample lessons with the first two weeks of lessons are available at DIVEintoMath.com/samples 3. Please allow 2 business days to set up your eLearning course(s). To login, follow the steps on your order confirmation email.