The 4th editions of Saxon Algebra 1 and 2 were not published by John Saxon. They were published by Houghton Mifflin Harcourt, who purchased Saxon Publishers in 2004. These editions are very different from the previous editions written by John Saxon (see the article below). One of the most damaging changes is all the geometry has been removed and placed in a new, Saxon Geometry text. The remaining lessons appear disorganized and confusing. These new editions will not develop the fluency required to excel on college entrance exams. Therefore, Dr. Shormann will not create DIVE video lectures for either of these new editions.
Instead, he has published a new curriculum, Shormann Interactive Math. Based on John Saxon's original teaching methods and enhanced by 21st Century technology, this new curriculum not only prepares students for upper level math courses, they prepare them to excel on the ACT, the new PSAT and SAT, as well as the CLEP College Algebra exam. Read more about Shormann Math at the link above.
Following is an article from the DIVE catalog that has more details on the HMH editions.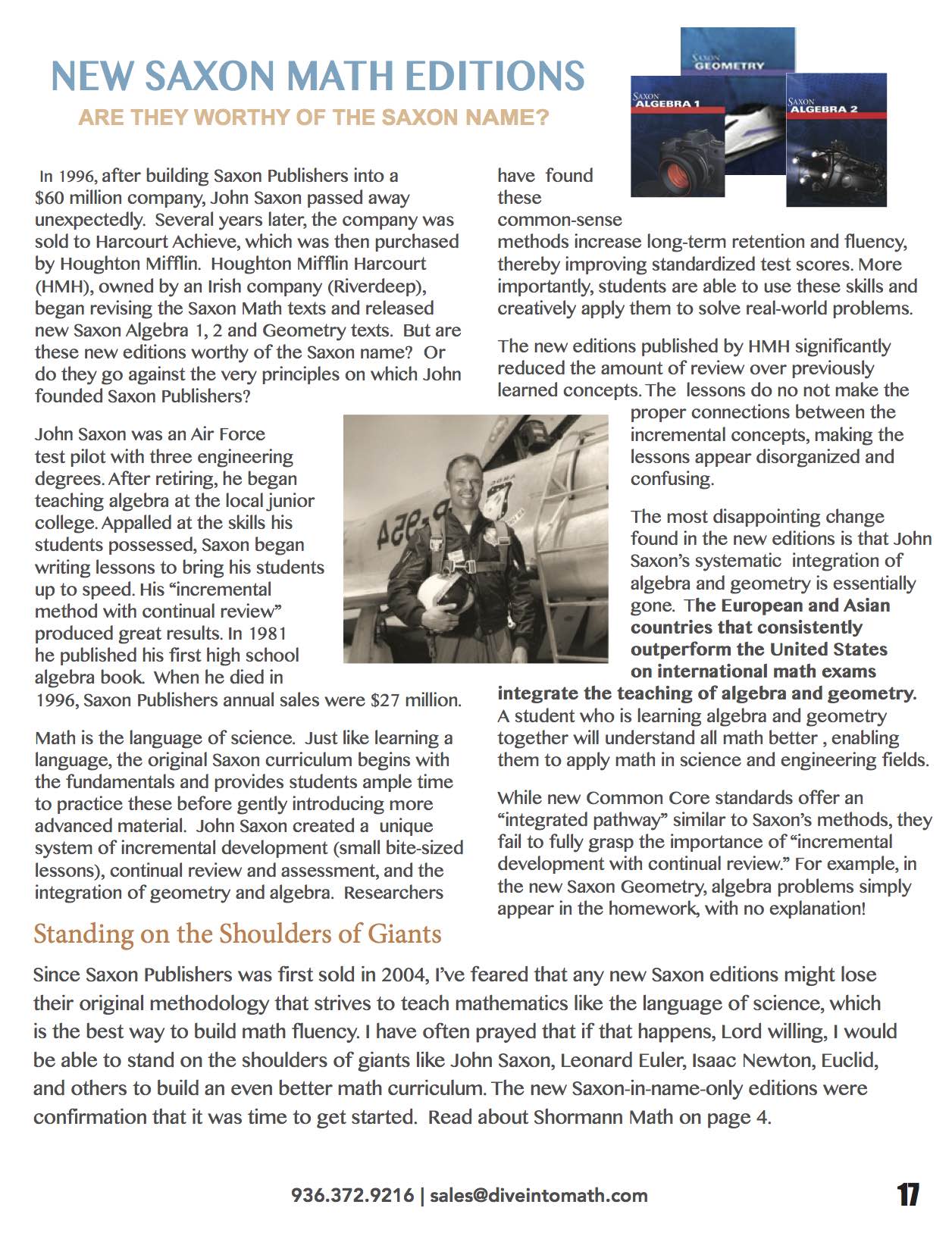 In 1996, after building Saxon Publishers into a
$60 million company, John Saxon passed away
unexpectedly. Several years later, the company was
sold to Harcourt Achieve, which was then purchased
by Houghton Mifflin. Houghton Mifflin Harcourt
(HMH), owned by an Irish company (Riverdeep),
began revising the Saxon Math texts and released
new Saxon Algebra 1, 2 and Geometry texts. But are
these new editions worthy of the Saxon name? Or
do they go against the very principles on which John
founded Saxon Publishers?
John Saxon was an Air Force
test pilot with three engineering
degrees. After retiring, he began
teaching algebra at the local junior
college. Appalled at the skills his
students possessed, Saxon began
writing lessons to bring his students
up to speed. His "incremental
method with continual review"
produced great results. In 1981
he published his first high school
algebra book. When he died in
1996, Saxon Publishers annual sales were $27 million.
Math is the language of science. Just like learning a
language, the original Saxon curriculum begins with
the fundamentals and provides students ample time
to practice these before gently introducing more
advanced material. John Saxon created a unique
system of incremental development (small bite-sized
lessons), continual review and assessment, and the
integration of geometry and algebra. Researchers
have found
these
common-sense
methods increase long-term retention and fluency,
thereby improving standardized test scores. More
importantly, students are able to use these skills and
creatively apply them to solve real-world problems.
The new editions published by HMH significantly
reduced the amount of review over previously
learned concepts. The lessons do no not make the
proper connections between the
incremental concepts, making the
lessons appear disorganized and
confusing.
The most disappointing change
found in the new editions is that John
Saxon's systematic integration of
algebra and geometry is essentially
gone. The European and Asian
countries that consistently
outperform the United States
on international math exams
integrate the teaching of algebra and geometry.
A student who is learning algebra and geometry
together will understand all math better , enabling
them to apply math in science and engineering fields.
While new Common Core standards offer an
"integrated pathway" similar to Saxon's methods, they
fail to fully grasp the importance of "incremental
development with continual review." For example, in
the new Saxon Geometry, algebra problems simply
appear in the homework, with no explanation!
NEW SAXON MATH EDITIONS
ARE THEY WORTHY OF THE SAXON NAME?
Since Saxon Publishers was first sold in 2004, I've feared that any new Saxon editions might lose
their original methodology that strives to teach mathematics like the language of science, which
is the best way to build math fluency. I have often prayed that if that happens, Lord willing, I would
be able to stand on the shoulders of giants like John Saxon, Leonard Euler, Isaac Newton, Euclid,
and others to build an even better math curriculum. The new Saxon-in-name-only editions were
confirmation that it was time to get started. Read about Shormann Math on page 4.